With the arrival of autumn, Europe is dyed in the warm tones of the change of season, and several destinations become ideal places to explore during this period.
From charming towns with golden leaves to cities full of culture and festivals, this time is ideal for those fleeing the extreme heat or cold of summer and winter, as well as having an incredible atmosphere for your photos.
For this reason, we share 5 European destinations to visit in autumn:
Prague, Czech Republic
Prague, the capital of the Czech Republic, transforms into a charming destination during autumn. The warm colors of the foliage that cover its parks and gardens make the city an ideal place for long walks.
The iconic Prague Castle turns gold, and the Charles Bridge offers spectacular views of the city in soft autumn light. The autumn markets on Old Town Square offer delicious local specialties, such as trdelník, a type of cone-shaped cake, and mulled wine to keep you warm.
Don't miss the opportunity to explore the city's museums and galleries to immerse yourself in its rich history and culture. Also, they can enjoy classical music in one of the many concerts held in churches and concert halls.
A hit is the Autumn Harvest Festival, where you can enjoy culinary delights and Czech wines.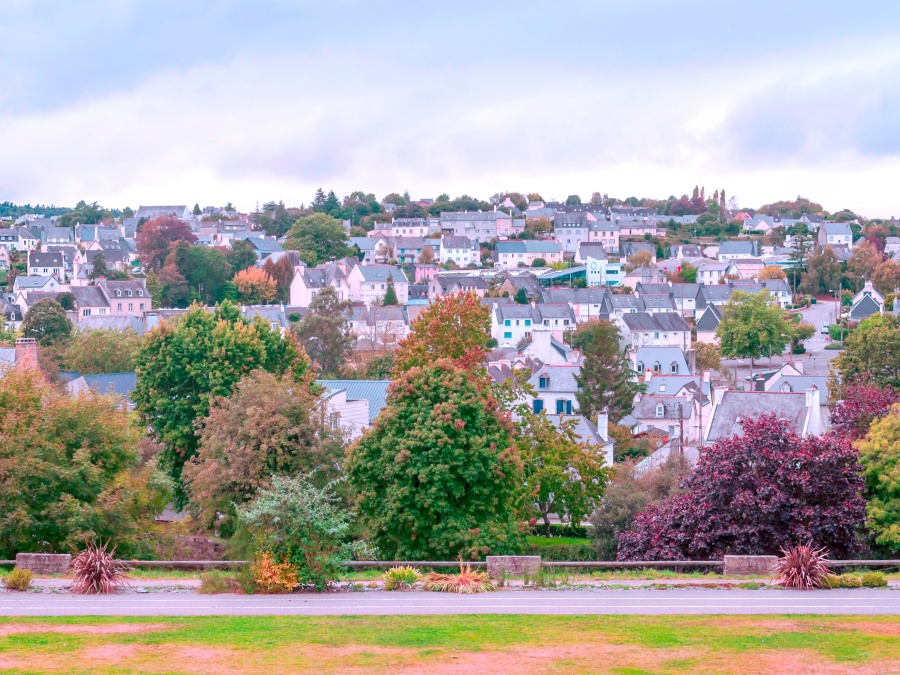 Brittany, France
The Brittany region in north-west France has a mild Atlantic climate at this time of year, perfect for exploring its stunning coastline. They can enjoy long walks along the beaches, marvel at the pink granite cliffs of Ploumanac'h on the Pink Granite Coast, or discover picturesque fishing villages like Cancale.
In addition, Brittany is famous for its cuisine, and autumn is the ideal season to savor delicious dishes based on fresh seafood, such as Cancale oysters. Don't miss the opportunity to visit some of the local markets, where you can try citron, crepes and other regional delicacies.
Cultural festivals and traditional Breton celebrations, such as the Fest-Noz, offer a unique insight into local culture.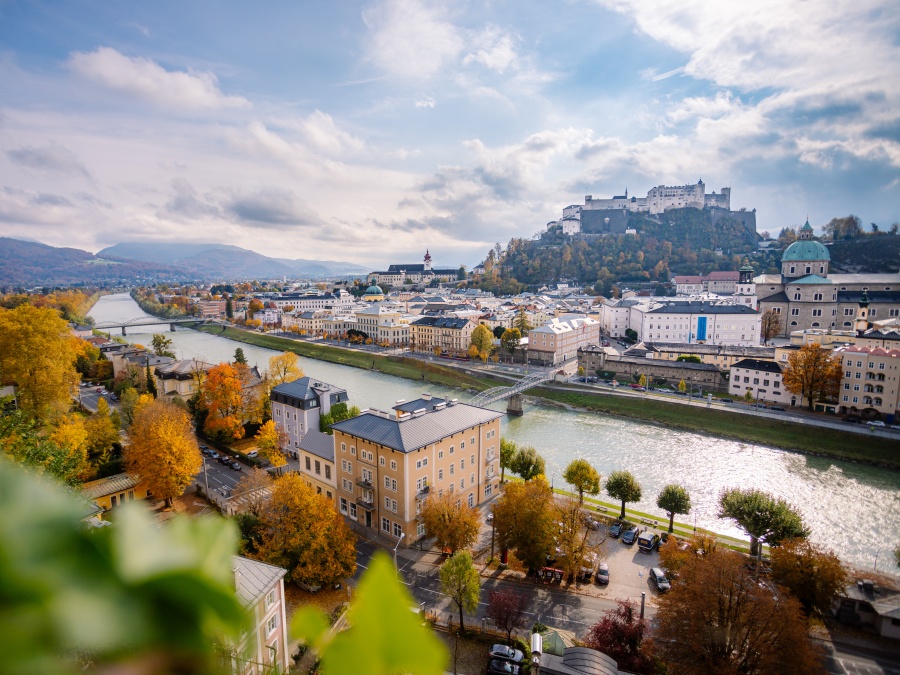 Salzburg, Austria
In Salzburg, Austria's baroque jewel, the Mirabell Gardens are transformed into a spectacle of gold and red leaves, creating a perfect setting for a romantic stroll. Classical music flows through the streets of Mozart's hometown, and you can enjoy concerts in the many halls and palaces that host masterful performances.
Salzburg's old town is an ideal place to explore on foot and discover the baroque architecture and narrow cobblestone streets. The proximity of the Alps offers the opportunity for excursions to enjoy the natural beauty of the region, especially when the autumn colors paint the landscapes around the alpine lakes.
Let's not forget the delicious Austrian cuisine, with dishes such as apple strudel and warm glühwein, a traditional mulled wine drink.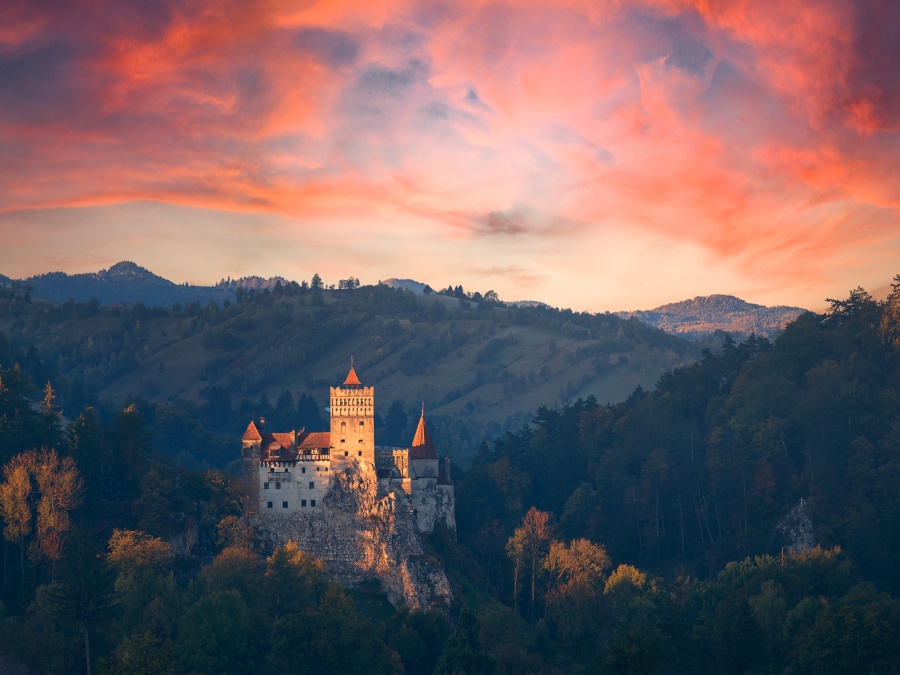 Transylvania, Romania
Transylvania, Romania, takes on a mysterious and evocative air in autumn, making it a fascinating destination. The mountainous landscapes are covered in autumn colors, creating a stunning setting for nature lovers and hiking enthusiasts.
Beech and spruce forests turn gold and red, offering a spectacular backdrop for exploring places like Retezat National Park. Additionally, this season, Transylvania's medieval castles and fortresses, such as Bran Castle, famous for its association with the myth of Count Dracula, are enveloped in a mysterious atmosphere that attracts visitors in search of stories of vampires and legends.
Local autumn markets offer the opportunity to sample rich Romanian cuisine, with dishes such as sarmale (stuffed cabbage leaves) and mămăligă (polenta).
Dublin, Ireland
Dublin, Ireland's lively capital, transforms into a charming place during autumn. The cool climate and golden leaves covering the city's parks make it ideal for strolls through iconic locations such as St. Stephen's Green Park and Phoenix Park.
Autumn is festival season in Dublin, with cultural, musical and culinary events filling the city with life. The Temple Bar TradFest, for example, offers traditional Irish music in the streets and pubs of the famous Temple Bar neighborhood.
It's also a perfect time to visit the city's museums and galleries, such as the National Gallery of Ireland, where you can shelter from the weather and enjoy art and culture.
Don't forget to try traditional dishes such as Irish stew or boxty in the city's cozy pubs, which often feature live music.
Prepare your sweater and your camera and embark on your European adventure!
The post Most charming European destinations to visit in autumn first appeared on Alan x el Mundo.
The post Most charming European destinations to visit in autumn appeared first on Alan x el Mundo.
Source: https://alanxelmundo.com/destinos-europeos-mas-encantadores-para-visitar-en-otono/?utm_source=rss&utm_medium=rss&utm_campaign=destinos-europeos-mas-encantadores-para-visitar-en-otono