Puebla is one of the states of Mexico with the greatest tradition and history, in addition to being quite well located due to its proximity to Mexico City and other states such as Veracruz. Touristically speaking, it receives thousands of visitors from all over the world every year, which is why in recent decades it has become one of the most important destinations as a business, educational, industrial and cultural center in the country. All this has led to a wide range of services, experiences, restaurants and hotels in Puebla.
Our recommendations to live your weekend visit to Puebla to the fullest are:
It appeals to Val 'Quirico
Get to know Cholula
Former Hacienda of Chautla
El Parian
Africa Safari
It appeals to Val 'Quirico
A must-see when you visit Puebla, as it is a theme park and tourist complex that resembles an Italian town through which you can walk through its streets and tunnels in which you will be immediately transported to the Old Continent. Among the activities that you can do are: bicycle tours, visit the bird sanctuary, practice archery, take old-style photographs, even solve riddles in a scape room.
Get to know Cholula
This city houses the largest pyramid in the world and is one of the oldest on the continent. Although its antiquity speaks volumes about it, it is also a reflection of the modernity of Puebla, as it is an area full of life, with a wide variety of restaurants and cafes, museums, among others. During the day you can visit the archaeological zone and at night have fun in the bars and clubs. Without a doubt, it is an ideal plan if you travel with friends or a partner.
Former Hacienda of Chautla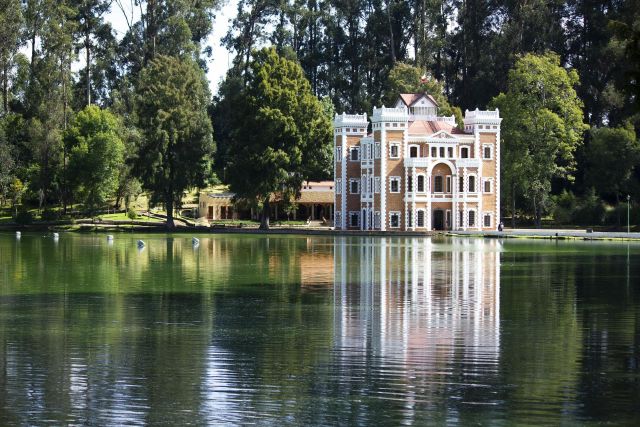 Impressive at first sight, in the middle of a lagoon is this castle full of details and textures. Previously it bore the name of Marquesado de la Selva Nevada and dates back to 1777, however, in 1984 the government of Puebla acquired it to turn it into a tourist center and give it recreational use. In 2014 it was remodeled as we know it today. Here you can enjoy a delicious trout, an afternoon of fishing, zip line or enjoy the calm of the lake in canoes to row or pedal.
El Parian
It is considered a symbol of the capital of Puebla, for being the first market in the city, according to historians. Located in the old San Roque square, here you can find products and handicrafts from different textiles, leather, talavera, ceramics, wood, palm, pottery, blown glass and silver. Just a few blocks from the Zócalo you will find this market, where in addition to the traditional crafts at a very good price, you can buy a pencil caricature portrait so that your experience visiting Puebla is forever and buy delicious typical sweets.
Africa Safari
If what you like is nature and animals, you cannot miss one of the most popular zoos in the country. Founded in 1976, it has stood out for being the first institution in Mexico to reproduce the golden eagle, the symbol of the Mexican flag, and to conserve endangered species such as the country's endemic wolf. Here you will find dozens of species from different continents in areas that seek to recreate their wildlife conditions. There is also a zip line, a butterfly house and an aviary.
These are just some of the activities you can do on a weekend in Puebla, but without a doubt this is a destination that has a lot to offer. Whether you travel on your own, as a family or as a couple, it is worth escaping the routine on the weekend and enjoying Puebla more than once.
Source: https://www.edy.com.mx/2022/06/lo-que-puedes-hacer-en-una-escapada-de-fin-de-semana-en-puebla/