Barcelona is one of the most popular cities among travelers, its gastronomic offer, entertainment and architecture make it worth visiting when you are traveling in Spain.
As for architecture, Barcelona has a mix of historic and contemporary buildings designed by renowned architects that are worth seeing and taking a photo session in each one.
So this time we share a list of some sites that you can visit to take architectural photography.
sacred Family
The Expiatory Temple of the Sagrada Familia is undoubtedly the icon of Barcelona and the greatest work of Antoni Gaudi; it is known throughout the world for its incredible design and uninterrupted construction that has continued for over a century.
This church is a masterpiece of Catalan modernism, an artistic and architectural movement characterized by its emphasis on originality, ornamentation, and connection with nature. Gaudí incorporated gothic elements and organic curves into the basilica's design, creating a unique style that resembles a stone forest.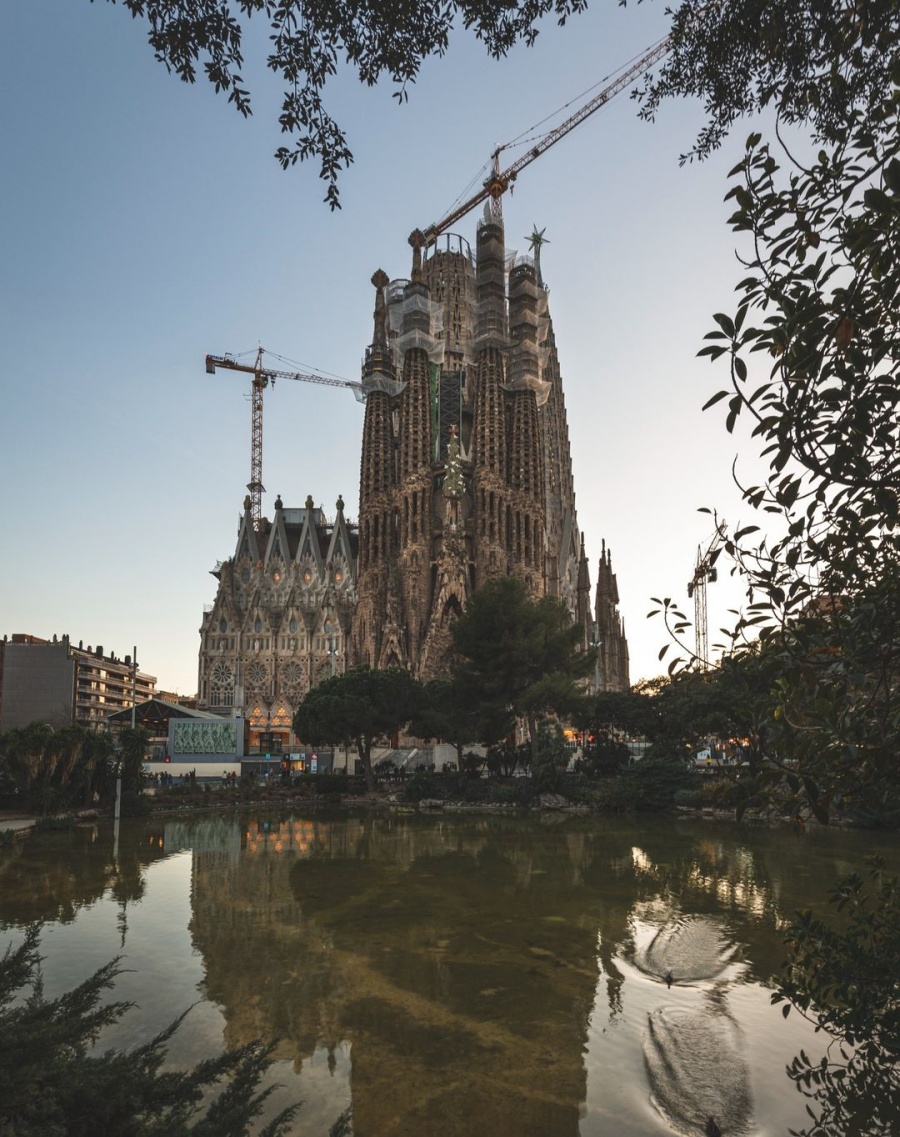 It has three facades: the Nativity Facade, the Passion Facade and the Glory Facade. Each of them represents a stage in the life of Jesus and is full of sculptural details and symbolism.
Inside, its columns that resemble trees and a roof that evokes a forest canopy stand out. The play of light through the stained glass windows creates a magical atmosphere in the interior.
Guell park
Also the creation of Gaudi, this public park features colorful mosaics, whimsical structures, and panoramic views of the city.
The park's architecture is a photographer's dream, especially in the early morning or late afternoon when the light is soft.
Gaudí designed the park following his characteristic style, characterized by organic forms, mosaics of bright colors and a symbiosis with nature. The park features many unique architectural features and sculptures, including the famous mosaic serpent on the main staircase and the undulating benches on the main terrace.
Casa Batlló
Another Gaudi creation, Casa Batlló is a jewel of modernism. Its distinctive façade and rooftop are especially photogenic.
If you visit early in the morning, late in the afternoon, you will avoid crowds and capture every detail of the place.
The highlight of Casa Batlló is its unique façade, which seems to have been sculpted by waves from the sea. Gaudí used an organic approach to his design, creating a façade resembling a dragon's skin, with brightly colored glazed ceramics and wrought iron details resembling bones.
Casa Milà (La Pedrera)
Casa Milà, also known as La Pedrera, is another of the iconic buildings designed by Antoni Gaudí.
It is located in the heart of the city and is known for its innovative design and sinuous façade.
Gaudí designed the building without straight corners, giving rise to an undulating façade that seems to flow like a wave. The wrought iron balconies have organic shapes and the roof is adorned with sculptural chimneys.
Palau de la Música Catalana
It is an impressive concert hall, designed by Lluís Domènech i Montaner, with a vibrant, colorful and ornate modernist design, both inside and out.
Its design is characterized by its emphasis on ornamentation and the fusion of organic forms with architectural elements. The Palau's façade is an explosion of colors and sculptural details, with mosaics, stained glass windows, decorative columns and sculptures representing mythological and allegorical figures.
Saint Pau Hospital
This modernist hospital complex, designed by Lluís Domènech i Montaner, is a UNESCO World Heritage Site.
Its beautiful architecture and gardens offer excellent photographic opportunities.
Domènech i Montaner's design is characterized by its use of mosaics, stained glass, ceramics and sculptures, as well as its attention to light and natural ventilation.
The Gothic Quarter (Gothic Quarter)
The Gothic Quarter is the ideal place to walk and discover the medieval and Romanesque architecture, hidden patios and charming details.
This neighborhood stands out for its narrow and winding streets, medieval stone buildings, Gothic arches and cobbled squares; It also houses the Cathedral of Barcelona.
If you go in the morning you will avoid the crowds and find ideal spots to take pictures.
MACBA
The Barcelona Museum of Contemporary Art building is an architectural masterpiece by itself.
It was designed by Richard Meier and stands out for its minimalist design and white surfaces contrasting with the sky.
It is composed primarily of white concrete and features a series of interconnected geometric volumes. Clean lines and a white façade are hallmarks of the Meier style. The museum is known for its creative use of natural light in the exhibition rooms.
Source: https://alanxelmundo.com/sitios-imprescindibles-para-fotografiar-en-barcelona/?utm_source=rss&utm_medium=rss&utm_campaign=sitios-imprescindibles-para-fotografiar-en-barcelona