In Mexico there are places to which all people would like to go, at least once in their lives. One of them is in Quintana Roo and is known for its beautiful lagoon with turquoise waters and its rich history: Bacalar.
For me, Bacalar is magical from the moment you arrive. For starters, it takes a few minutes for your eyes to adjust to the variety of bright shades that come from its beautiful main draw: the "Laguna de los Siete Colores". The reflection of its waters ranges from turquoise to deep blue, allowing you to witness an impressive visual spectacle, caused by the mixture of the depth of the lagoon and the presence of different types of sediments.
We stayed at Akalki, a beautiful holistic hotel surrounded by a lagoon and mangroves, which allowed us to witness another spectacle of nature: the dance of lights in the sky that brought a thunderstorm at night and lasted until dawn. Akalki also makes the dream of living with the local nature come true, as it is very common to see different birds, fish and crocodiles just existing in their habitat. At another time in my life these scenarios would have scared me, but here, everything felt amazing.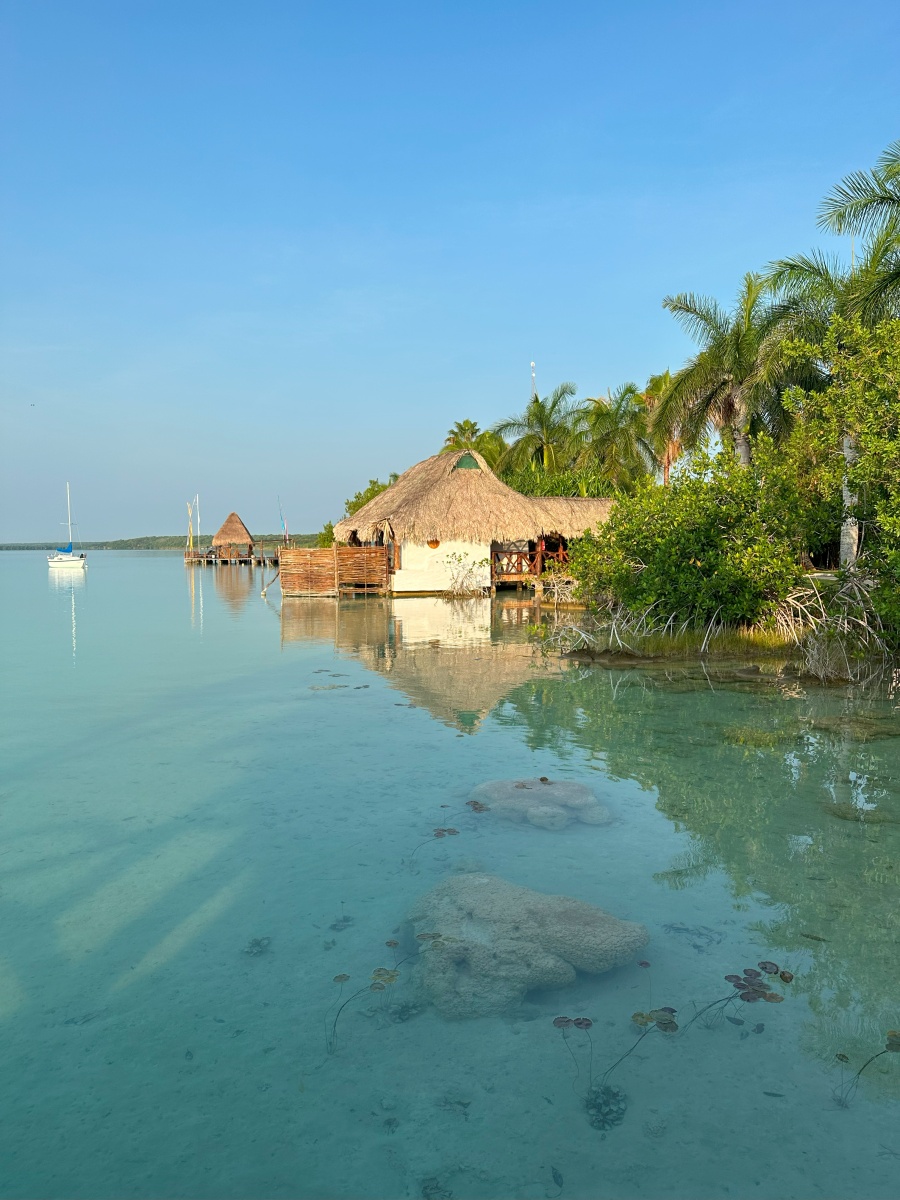 Did you know that Bacalar comes from the Mayan "Bakhalal"?
Bacalar has a rich history and is associated with the Mayan civilization. In the area, there are archaeological remains dating back thousands of years. In addition, the town of Bacalar preserves a colonial charm with cobbled streets, colorful houses and picturesque architecture. The combination of its history and culture reaffirms its magic.
Another of the natural treasures of this site are the cenotes, natural freshwater wells that offer the opportunity to swim in crystalline waters surrounded by exuberant vegetation. They have been considered as sacred places by the Mayan culture, since they symbolize both the source of life and the entrance to the world of the gods.
Its gastronomic offer is extensive, there are many vegan restaurants and those that take care of nature. But my favorite was La Trattoria Del '46, a restaurant specialized in Italian food with exquisite dishes and that will be your best ally for a break after a day swimming or to enjoy a dinner that will leave you with a happy heart.
The calm and relaxing atmosphere of Bacalar allows you to escape the bustle of the cities and immerse yourself in the serenity of nature and the calm waters of the lagoon.
The mysteries of Bacalarien
While Bacalar is a charming place and popular with tourists, it also has some pretty interesting mysteries and legends. I will tell you two mysteries that caught my attention:
The first involves the "Cenote de la Bruja", which is better known as "Cenote Negro". The legend says that in this cenote there is a witch who has lived in the depths of the waters for dozens of years. The witch is believed to have magical powers and strange occurrences and mysterious disappearances in the area are attributed to her. If you are superstitious people, do not visit it, but if you love this type of adventure, then go ahead!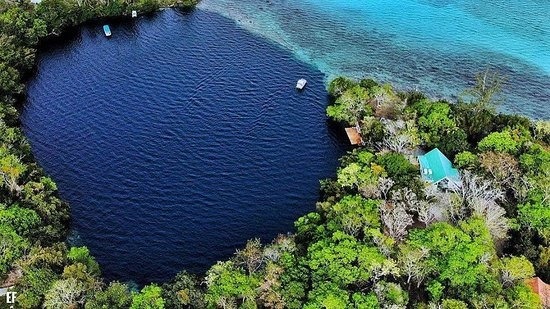 On the other hand, there are underground tunnels in the waters of Bacalar that connect to the most important places in the city and that would have been used by pirates and smugglers in the past. Personally, it does not seem so unlikely to me and although some people claim to have seen or even explored them, their exact location remains a mystery.
The combination of its mysticism, its impressive natural beauty, its cultural richness and its unbeatable atmosphere makes this place seem out of this world. I am sure that the sum of these elements creates a unique and memorable experience for those who explore this incredible destination in Mexico.
When I returned to Mexico City I was a bit chipil —homesick—, because despite the fact that I felt very recharged thanks to all the nature and vibes of the people I lived with on the trip, my retina was looking for those blue colors, which They're so wonderful, it's hard to let them go.
If you are planning to go to Bacalar, I would like to tell you that the easiest way to get there from CDMX is to travel to Chetumal, capital of the state of Quintana Roo, and then take a taxi to Bacalar —the journey is approximately 40 minutes.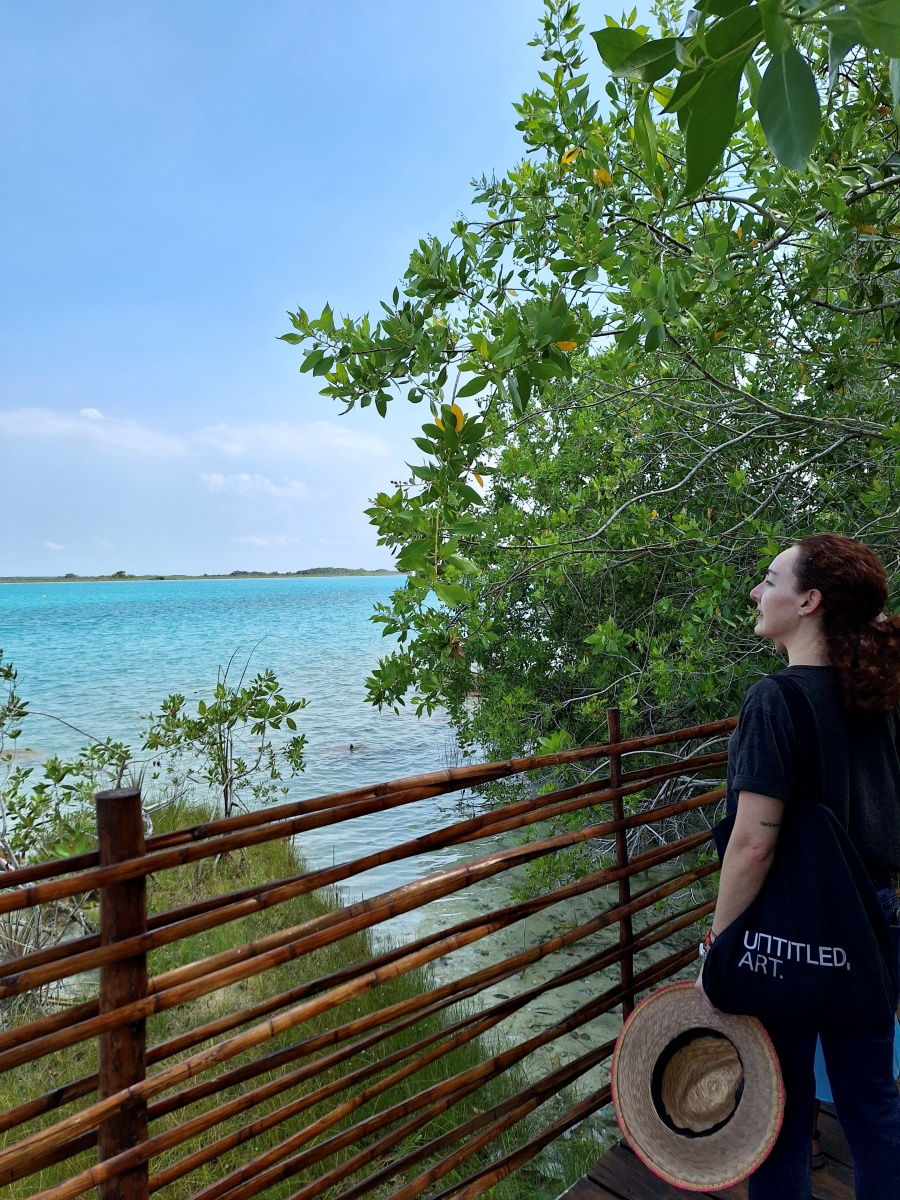 Karen Huber
Gallery owner and cultural promoter
@karenhuber_
Photographs courtesy of Karen Huber and internet
Source: https://alanxelmundo.com/bacalar-paraiso-magico/?utm_source=rss&utm_medium=rss&utm_campaign=bacalar-paraiso-magico