There is no doubt that one of the favorite activities of children and adults when going to any beach destination is to live the experience of practicing snorkelingbut there is nowhere in Cancun and the Riviera Maya where you can snorkel like Isla Mujeres.
Isla Mujeres An Island With Charm
Isla Mujeres is a small island that is located just 15 minutes by ferry from Cancun, if you leave from Puerto Juárez, or 45 minutes by ferry if you leave from Punta Sam.
Whatever the case, the landscapes that you will have the opportunity to see are simply wonderful, since from one side you will be seeing the beauty of the Island of Cancun, and on the other the beauty of Isla Mujeres.
In Isla Mujeres you can practice endless water sports, in addition to the fact that there are many activities that you will love, for example, you can visit north beachone of the most beautiful in the world, stroll through its historic center, go around the island in a golf cart, and even visit Garrafón Park, one of the most complete and fun theme parks.
Snorkeling In Isla Mujeres Garrafon Park
Garrafon Park It is precisely the ideal place to practice snorkeling in Isla Mujeres since its strategic location will allow you to enjoy endless multicolored fish and other aquatic animals, in a completely safe environment and for as long as you want.
In addition, in Parque Garrafón you will have all the facilities at your service, since it is an all-inclusive parkfor which you will have at your disposal a diving suit, life jacket, towels, bathrooms, showers, etc.
As it is an all-inclusive park, you can enjoy a delicious buffet lunch, alcoholic and non-alcoholic drinks, and get into the infinity pool.
And you can also enter the temazcal, jump from very fun zip lines, ride a kayak, and many more surprises.
Garrafon Park Swim With Dolphins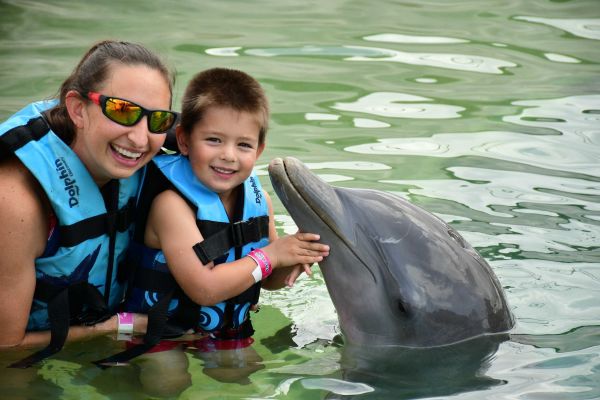 Another of the activities that you can do in Parque Garrafón Cancún Isla Mujeres is swimming with dolphins.
An activity that will not only provide you with many fun moments, but will also provide you with very valuable information about dolphins, such as their habitat, care, life cycle, among others.
Swimming with dolphins in Garrafon Park Dolphin Discovery It has 3 different packages, but don't worry, whichever you choose, it will always be an excellent decision.
Garrafon de Castilla Hotel & Beach Club
Very close to Garrafon Park is Garrafon de Castilla, a small and picturesque hotel & beach club that you will love.
This is because in Garrafon de Castilla You will find a small, but very beautiful beach where you can practice snorkeling.
In addition, it has a small restaurant and all the necessary facilities to spend a day, or more, full of fun.
Of course, if you want to stay in Garrafón de Castilla you can, as it has 12 rooms with everything you need to rest comfortably.
Finally, it should be noted that Garrafon Park and Garrafon de Castilla are completely different places, so if you want to visit Garrafon Park you will have to pay the access fee, but believe us that every penny you pay will be worth it.
In Isla Mujeres, Parque Garrafon and in Garrafon de Castilla, we are waiting for you with open arms!
Source: https://www.edy.com.mx/2022/07/snorkel-en-isla-mujeres-todo-incluido/