Disney announced the arrival of a new member, it is the Disney Treasure, a ship that presents the kingdoms of Disney, Pixar, Star Wars and Marvel, and that pays tribute to the dynamic stories of the most beloved attractions of the Disney parks, through captivating and immersive experiences on the high seas.
Disney Treasure is Disney Cruise Line's newest ship and is the sister ship to Disney Wish, which launched in 2022. Her maiden voyage will be on December 21, 2024 and will consist of a seven-night Eastern Caribbean cruise from Port Canaveral, Florida.
Following the inaugural voyage, the season will begin with seven-night itineraries to the Eastern and Western Caribbean from Port Canaveral.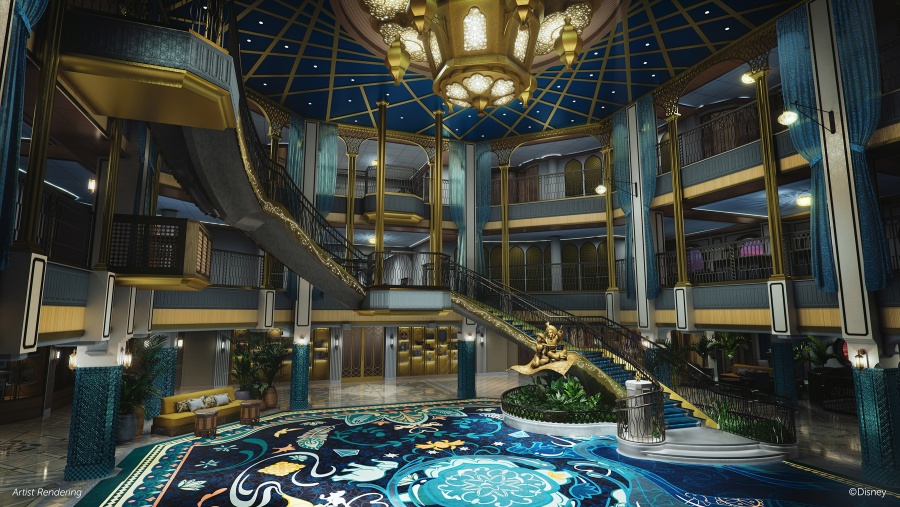 Reservations will be available starting September 12, 2023, for Disney Cruise Castaway Club members, and September 20, 2023, for the general public.
The Disney Treasure is inspired by adventure, as its design follows the bold and moving stories of Disney characters; It also pays tribute to Walt Disney's passion for travel and exploration.
On board, guests will find Disney Wish traveler-favorite spaces filled with adventure and inspired by memorable Disney stories like Aladdin, Coco and Zootopia.
Inflight entertainment
During the voyage, travelers will find various entertainment options that will immerse them in real and imaginary worlds through interactive narrative, character encounters, and Broadway-style theatrical adaptations.
The Grand Hall will be the key to unlocking a treasure trove of new and captivating entertainment, including dedicated shows, character encounters and musical performances. As the story unfolds for Disney Treasure guests, the Aladdin-themed Grand Hall will be the ship's most prominent gathering space, inspiring wonder and exploration during every voyage.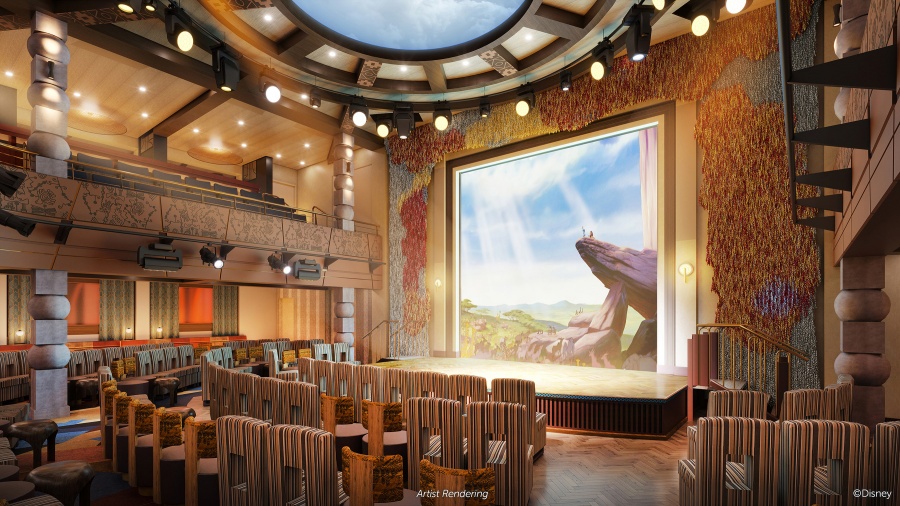 Named after the lioness from "The Lion King," Sarabi will be a central space for various daytime activities and adults-only evening entertainment. The uniquely designed two-story space will evoke the natural beauty and spaciousness of the savannah, featuring Disney Cruise Line classics like Match Your Mate and Family Time Game Show, as well as new favorites that debuted on Disney Wish like Villains Game Night.
The Walt Disney Theater is an opulent performance palace that will come to life with original Broadway-style productions developed exclusively for Disney Cruise Line, Beauty and the Beast and Disney Seas the Adventure.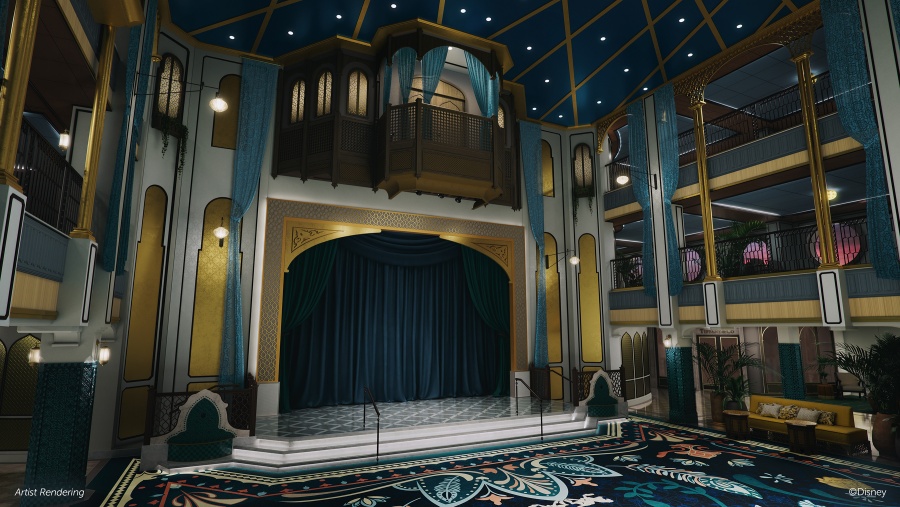 Hero Zone and the Wonderland and Never Land cinemas will offer family entertainment aboard Disney Treasure. Hero Zone will offer a progressive sports and recreation venue where physical challenges will be combined with game show-style competitions, while the Wonderland and Never Land cinemas, intimate and luxury screening rooms, will elevate the onboard movie experience for Let guests watch first-run movies from Disney, Pixar, Marvel, Lucasfilm and more.
Fun on deck
Located on the upper decks of Disney Treasure are three unique districts offering fun water activities, fast-casual dining options, as well as space to relax and sunbathe.
In a sprawling Mickey and Friends-themed district, families will discover seven pools among tiered terraces, plenty of plush seating, an imaginative take on fast-casual dining with a festive character twist, and an exclusive Disney Cruise attraction Line on the high seas, AquaMouse.
AquaMouse: Curse of the Golden Egg will immerse guests in the world of Mickey Mouse animated shorts. Suspended high above the upper decks, the powerful jets will propel two-passenger vehicles through 230 meters of winding tubes, offering stunning views of the ocean and the rest of the ship. Aboard the Disney Treasure, AquaMouse will present a new story that follows Mickey Mouse and Minnie Mouse on a crazy adventure in an ancient temple.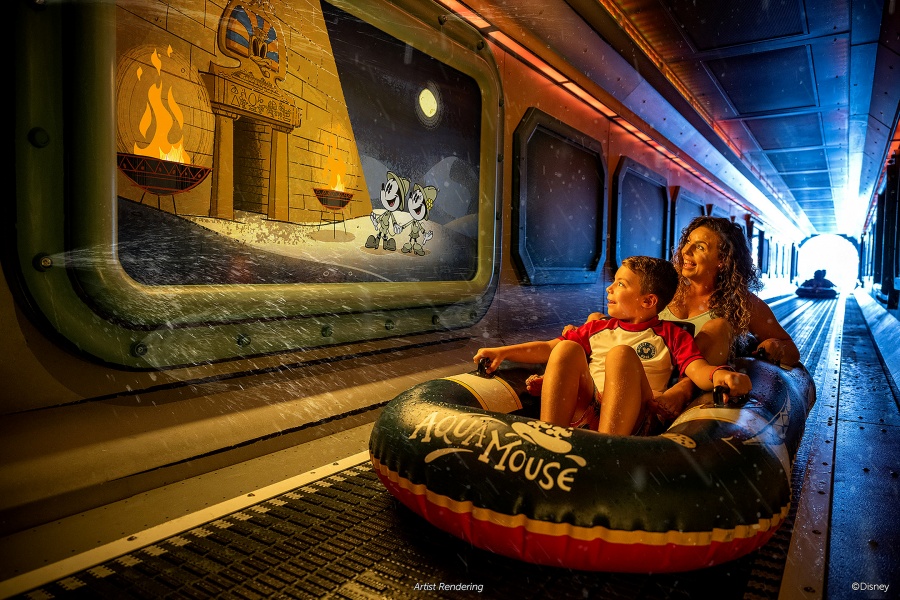 Little ones will delight in a Toy Story-themed district designed especially for families with young children that will include a splash zone, kiddie pool, family water slide and smoothie bar.
Meanwhile, adults will enjoy Quiet Cove, a quiet haven to rest, enjoy the best drinks and spend the afternoon on the water. Located away from the hustle and bustle of family activities.
Experiences for Fudis around the world
Disney Treasure will feature two of Disney Cruise Line's favorite restaurants and introduce an all-new one.
Coco Square will be the world's first theatrical dining experience themed to the Disney and Pixar film, "Coco." The story of Miguel and his family will pick up where it left off on screen as they gather at Mariachi Plaza to offer guests two colorful, music-filled nights celebrating family memories and togetherness, with festive dinner menus featuring traditional Mexican fare with twists. modern and the best live entertainment.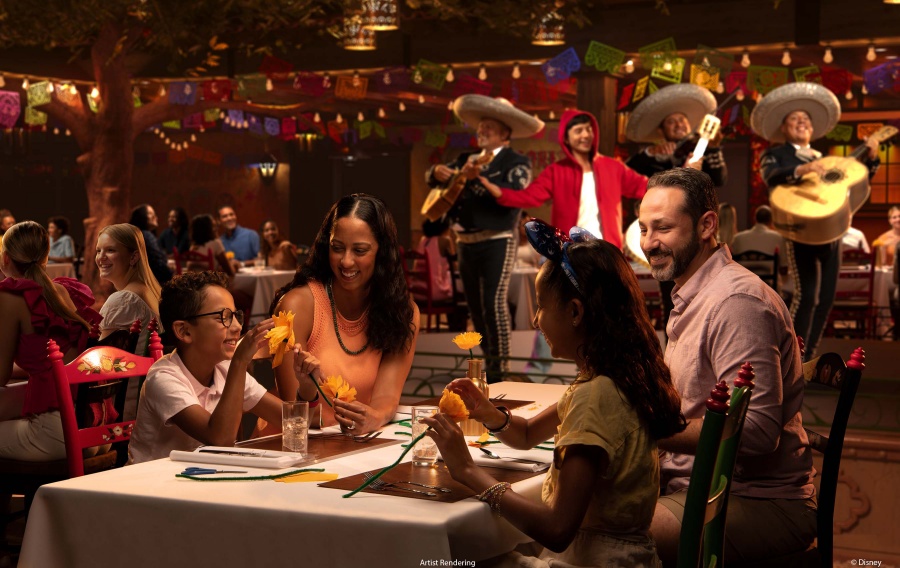 Worlds of Marvel, the immersive Marvel-themed dining experience, celebrates favorite Avengers characters and stories, including an incredible interaction with Spider-Man. It will offer a world-class menu and special entertainment, including two separate nights with different shows and dinners, all inspired by the Marvel cinematic universe.
1923, Named in honor of the founding year of Walt Disney Animation Studios, it will celebrate the impact of Disney's animation legacy and bring Walt Disney's love of adventure to life through a nostalgic collection of artwork centered around the theme of exploration of both modern and classic animated films. Brimming with the glamor of Hollywood's golden age, the venue's luxurious ambiance will complement a sophisticated menu inspired by the fusion of cultural flavors from across California and designed with families in mind.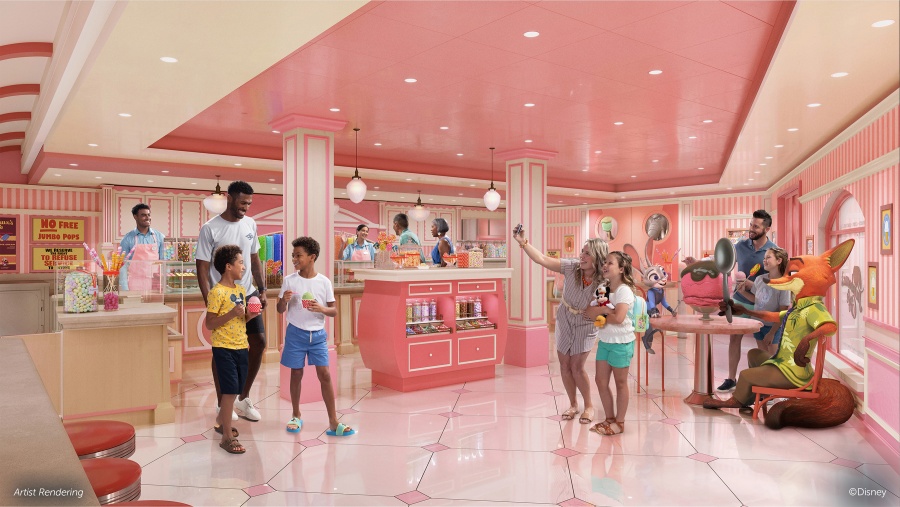 In addition to these restaurants, the ship will have places to enjoy fast and casual dining, 24-hour room service, specialty meals, gourmet coffees, adults-only luxury experiences and Jumbeaux's Sweets, inspired by the popular ice cream parlor featured in Disney's "Zootopia."
Relaxing options for adults
In addition to Quiet Cove, adults will also enjoy Periscope Pub, Skipper Society, Palo Steakhouse, Enchanté by chef Arnaud Lallement, The Rose and Senses Spa.
Periscope Pub will be Disney Cruise Line's first space inspired by Walt Disney's 1954 film, 20,000 Leagues Under the Sea, and the famous Disney Parks attraction that opened at Walt Disney World from 1971 to 1994. Travelers will be immersed into the mythical depths of the unexplored oceans in the middle of space designed like a submarine and take a look at the aquatic world through an intriguing glass roof. In addition to watching the latest sports games, Periscope Pub explorers will find a menu of craft beers and light bites.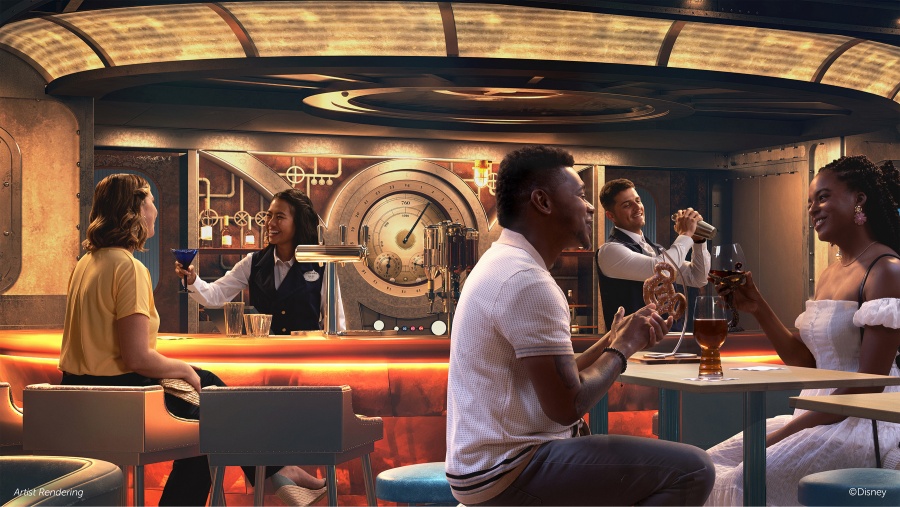 Palo Steakhouse It combines the relaxed sophistication of authentic Italian food with the classic refinement of a modern steakhouse in an elegant setting inspired by Cogsworth, the butler turned haunted clock.
Skipper Society will feature refined nods to the iconic Jungle Cruise attraction at Disney theme parks. It will offer a refined and fun atmosphere where guests can enjoy themed cocktails and light snacks.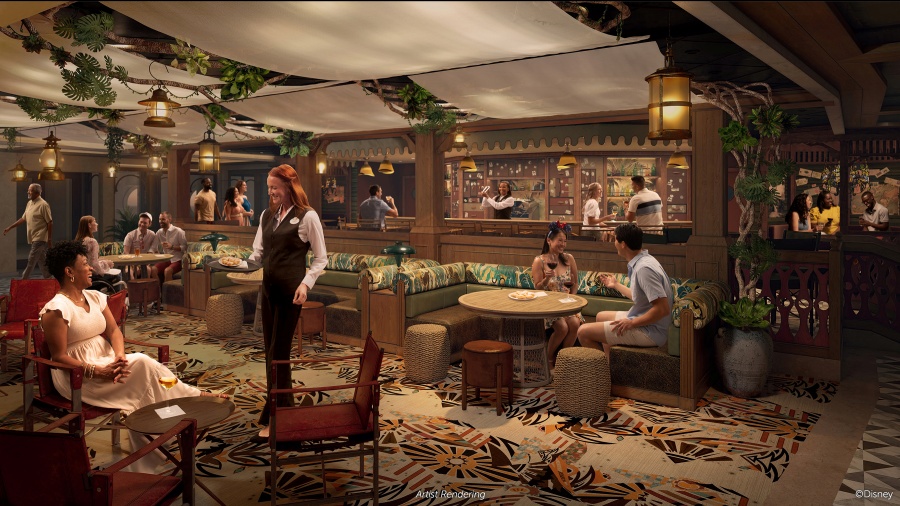 Delighted will offer the most luxurious dining experience on board, with a gourmet menu prepared by chef Arnaud Lallement, who has three Michelin stars. This romantic and intimate venue will evoke the dazzling spirit of Lumière, the maître movie chandelier.
The Rose It will be an elegant lounge at the entrance to Palo Steakhouse and Enchanté. The Rose will be an idyllic setting for a pre-dinner aperitif or post-dinner cocktail.
Senses Spa is a quiet oasis offering indulgent beauty and spa treatments, harnessing the serenity of the natural elements to promote pampering and relaxation. The spa will feature private treatment rooms, luxurious spa villas, saunas and aromatherapy rooms, while the reimagined Senses Fitness will offer state-of-the-art fitness and wellness facilities.
Adventures for the littlest travelers
The ship will feature dedicated spaces and interactive programming for travelers of all ages, babies, toddlers, children, tweens and teens.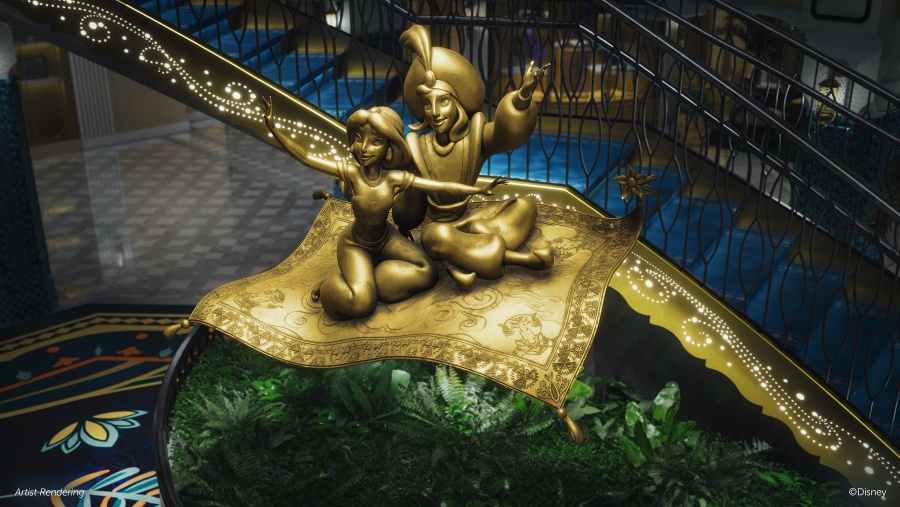 Kids will enter the captivating worlds of favorite Disney stories in Disney's Oceaneer Club, a world of immersive spaces specially designed to encourage exploration and discovery. Expertly developed programming combines physical play and age-appropriate technology to create enriching, deeply engaging experiences led by a team of Disney-trained advisors.
Marvel Super Hero Academy is a high-tech Avengers headquarters where young "recruits" will train to be the next generation of superheroes with the help of their own heroes, such as Spider-Man, Black Panther, and Ant-Man.
Fairytale Hall is a royal collection of activity rooms where princesses and princes will let their creativity shine in Rapunzel's art studio, read and act out stories in Belle's library, and more.
In Walt Disney Imagineering Labthey will discover the secrets of the world-renowned Disney Imagineers, the creative inventors who shape Disney theme parks, resorts and cruise ships, with hands-on activities and creative experiments.
In Star Wars: Cargo Baypeculiar creatures and legendary characters from a galaxy far, far away take center stage and lead children to live their own story of Star Wars as they take on the role of creature tamers and learn to handle a mischievous group of exotic beings.
Mickey and Minnie Captain's Deck is a nautical play area inspired by the colors, icons and magic of Disney Cruise Line. Little cadets will set sail on a fun-filled adventure with a variety of maritime-themed physical and sensory-style games and activities.
Ingenious accommodation
The cabins on board are built with families in mind and feature top-notch amenities. Most will feature Disney Cruise Line's signature split bathroom concept, and many will offer the option of a connecting door between staterooms to accommodate larger groups traveling together. Additionally, most staterooms will offer ocean views.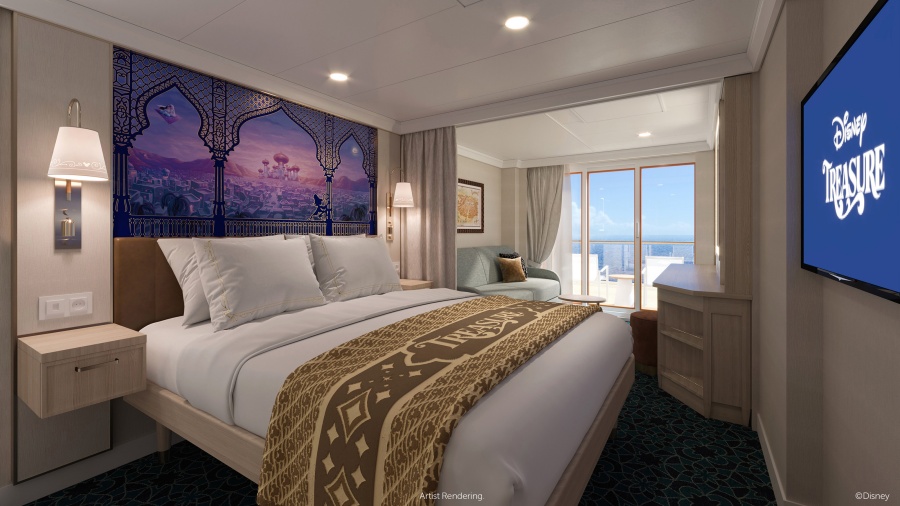 The Disney Treasure will elevate the concierge experience for travelers seeking luxury and a higher level of dedicated service. Concierge cabins and suites will offer adventure and indulgence, and an exclusive concierge lounge with private terrace serves as the perfect place to relax, sip a cocktail and enjoy a variety of food and beverages throughout the day. Aboard Disney Treasure, concierge suites will feature elegant interiors inspired by the majestic grasslands through which we see Simba in Walt Disney Animation Studios' "The Lion King."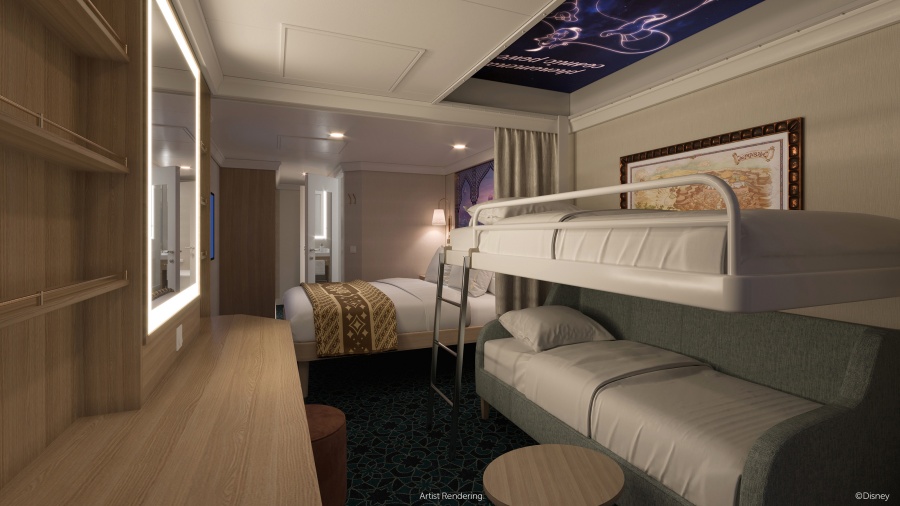 The adventure-inspired rooms aboard Disney Treasure will also extend to four royal suites that pay homage to the faithful feline companions of Disney's bold characters. Exclusive designs will include the Bagheera Royal Suites, which pay homage to the noble panther from "The Jungle Book" and the lush forests it inhabits, and the Rajah Royal Suites, inspired by Princess Jasmine's resident protective tiger. in the royal palace of Agrabah in the classic Disney film, "Aladdin."
If you want to know more about Disney Treasure, visit the official website of Disney Cruise Line.
Source: https://alanxelmundo.com/presentan-nuevo-crucero-de-disney/?utm_source=rss&utm_medium=rss&utm_campaign=presentan-nuevo-crucero-de-disney