Although it is several months away, the Disneyland Resort is already gearing up for many's favorite holiday season, the December season, which will take place from November 10, 2023 to January 7, 2024.
During this time, travelers will be able to visit markets at the Disney Festival of Holidays, see incredible projections and fireworks at Sleeping Beauty's Winter Castle, and even take a picture with Mickey Mouse, who will wear a new Christmas outfit.
To warm up the engines, Disneyland released some details of what we can see this season.
Disney Festival of Holidays
Disney California Adventure will host the Disney Festival of Holidays, a cultural celebration showcasing what the holidays are like in various parts of the world, including Christmas, Diwali, Hanukkah, Kwanzaa and Three Kings Day.
They'll find seasonal food and drink specials, and enjoy music and dance performances at the Palisades Stage, Sonoma Terrace, and the Hollywood Backlot. They can also dance with their favorite Disney and Pixar characters to the beat of the Holiday Toy Drummers at Mickey Happy Holidays.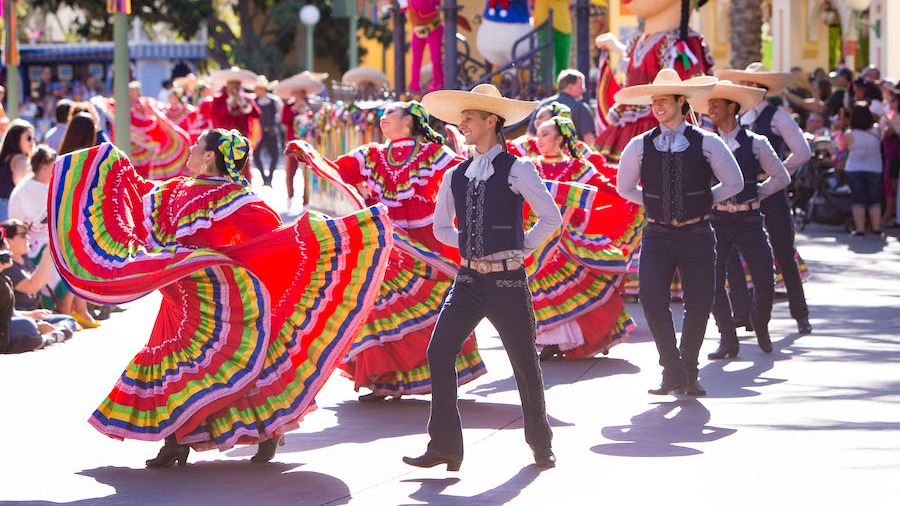 In addition, Disney will return Long live Christmas! to Paradise Gardens Park, where they will sample a new menu at Paradise Garden Grill. The Three Caballeros will organize a street party with dancers and mariachis, as well as samba dances and percussionists.
Festive decoration at Disneyland Resort
Of course, the transformation of the Disneyland Resort will not be missing to fully experience the festive and winter atmosphere. They will find Christmas decorations, including Sleeping Beauty's Winter Castle that will have icicles and its towers will be covered in snow. In addition, there will be a candy and cake-inspired gingerbread house at Disney's Grand Californian Hotel & Spa; and Christmas trees with uniquely themed decorations at both theme parks—Downtown Disney District, Disney's Grand Californian Hotel & Spa and Disneyland Hotel. And with a little Disney magic, "snow" is scheduled to fall every night in select areas of Disneyland!
At Disneyland, they'll be serenaded by choruses of merry tunes on the wintery channel of "It's a small world" Holiday, and Jack Skellington of "Tim Burton's The Nightmare Before Christmas" redecorates the Haunted Mansion, transforming it into the eerily festive Haunted Mansion Holiday , complete with a hauntingly charming new gingerbread house.
Seasonal shows and festive entertainment
Mickey and his friends will wear new outfits, at Disneyland, in red and green colors with looks inspired by mid-century modernity, plus guests will be able to take a photo with Santa Claus until December 24.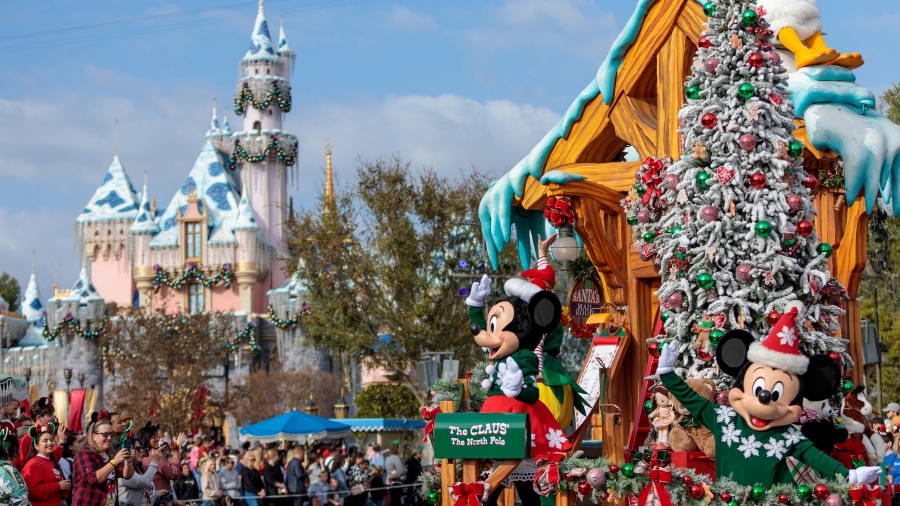 At Disneyland Park, "A Christmas Fantasy Parade" will spread cheer, starring characters from Disney Animation's "Frozen," Disney and Pixar's "Toy Story" and many more.
In the evenings, you can watch the "Believe… In Holiday Magic" show light up the sky with impressive fireworks and snowflakes. And for guests looking to add even more holiday magic to their trip, the Holiday Time at the Disneyland Resort Guided Tour will offer a curated experience of select seasonal offerings and reserved viewing for "A Christmas Fantasy Parade."
At Disney California Adventure Park, "World of Color – Season of Light" will fill Paradise Bay with the spirit of togetherness and love as hundreds of fountains illustrate heartwarming moments from Disney animated movies.
In addition to holiday shopping and dining in the Downtown Disney District, you'll enjoy a variety of live musical performances on select nights at Downtown Disney LIVE! scenery.
If you want to know more details of what is being prepared, visit the official website of the Disneyland Resort.
Source: https://alanxelmundo.com/alistan-las-festividades-navidenas-en-disneyland/?utm_source=rss&utm_medium=rss&utm_campaign=alistan-las-festividades-navidenas-en-disneyland