Have you seen the Honor 50 lite yet? This new member of the family of Chinese cell phones comes loaded with surprises. So, if you are looking to acquire a new one, you cannot miss any detail. They are all very interesting and you will meet them today. This mobile not only has Google services, but it has many more advantages. Do you want to know what they are? We will start by telling you its main characteristics, so that you can consider them when deciding. Let's see what comes next.
1. 66W super charge
The 66-watt charger is one of the strengths of this equipment. Provides super fast charging. In 10 minutes, you get almost half of the total power required. That allows you to use it for longer without depending on cables. Also, avoid leaving it plugged in overnight. Or always carry a device with you to recharge the battery. When it reaches 80-90% charge, it slows down so it doesn't take damage from excess electric current. Incredible but true.
2. Full View screen
The screen of the Honor 50 lite smartphone is FullView. This means that it is big. However, it does not increase the size of the phone. Its dimensions are 6.67 inches. It looks wider, because it has extremely thin edges. Therefore, it is said to be infinite. The bezels measure 1.05 millimeters, which gives the panel greater visibility. Of course, this makes it a more attractive mobile. Not to mention that it has automatic adjustment of color temperature and brightness.
3. Quad camera
Another remarkable aspect of the Honor 50 lite lies in its quad camera. The main one is 64 megapixels (MP) and manages to capture clear images at any time of the day. It is located on the back of the mobile and is combined with three other lenses. An ultra-wide 8 MP that provides a superior viewing angle; the 2 MP macro to capture close-ups, and another depth with the same resolution to take portraits. If you like the area of ​​​​photography, it will be very useful for you.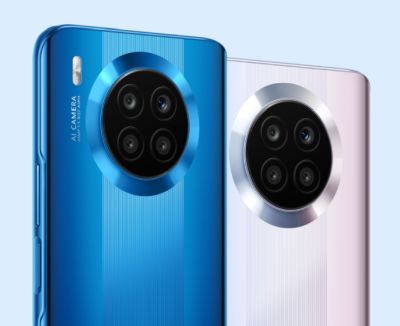 4. 4300mAh battery
The battery of this mobile device is 4 thousand 300 milliamps / hours. Added to the fast charging system that it has is very good. Why? You can spend all day using apps or enjoying a game without worrying about power off. However, the duration time is relative and depends on the use you give it. On average, you could last 16 hours browsing the Internet. Although the large panel and high resolution generate high consumption, you have the option of recharging in a very short period of time.
5. Elegant double grip design
The design features of the Honor 50 lite are equally attractive. It is a slightly compact and sophisticated smartphone. It has thin frames with curved tips, as well as a 3D arch that offers better grip. The dimensions of the phone are 161.8 x 74.7 x 8.5 millimeters. Its weight is equivalent to 192 grams, including the battery. Being lightweight, it is easy to carry in one hand. In the back it has some lines that make it look modern. The design has other peculiarities. On the one hand, the excellent use of the front and, on the other, a completely circular camera module at the rear. It is made of polycarbonate and comes in luminous blue and sidereal silver.
conclusion
Now that you know about the honor 50 lite features, you will never be disappointed if you buy one. So, what are you waiting for? Get one for a better phone experience!
Source: https://www.edy.com.mx/2022/11/5-caracteristicas-del-honor-50-lite/